I have always dreamt of traveling to another country, but I never thought that I would meet such amazing people as I have in Brazil. My host family has welcomed me into their home, and they have never failed to make me feel like family. I have made countless friends at the various schools here in Brazil, as well. Not only have I encountered inspirational people, but the Brazilian culture is beyond compare – something I have never experienced before. We have been immersed in the Brazilian culture within the college among other adventures in São Bernardo, right outside of São Paulo.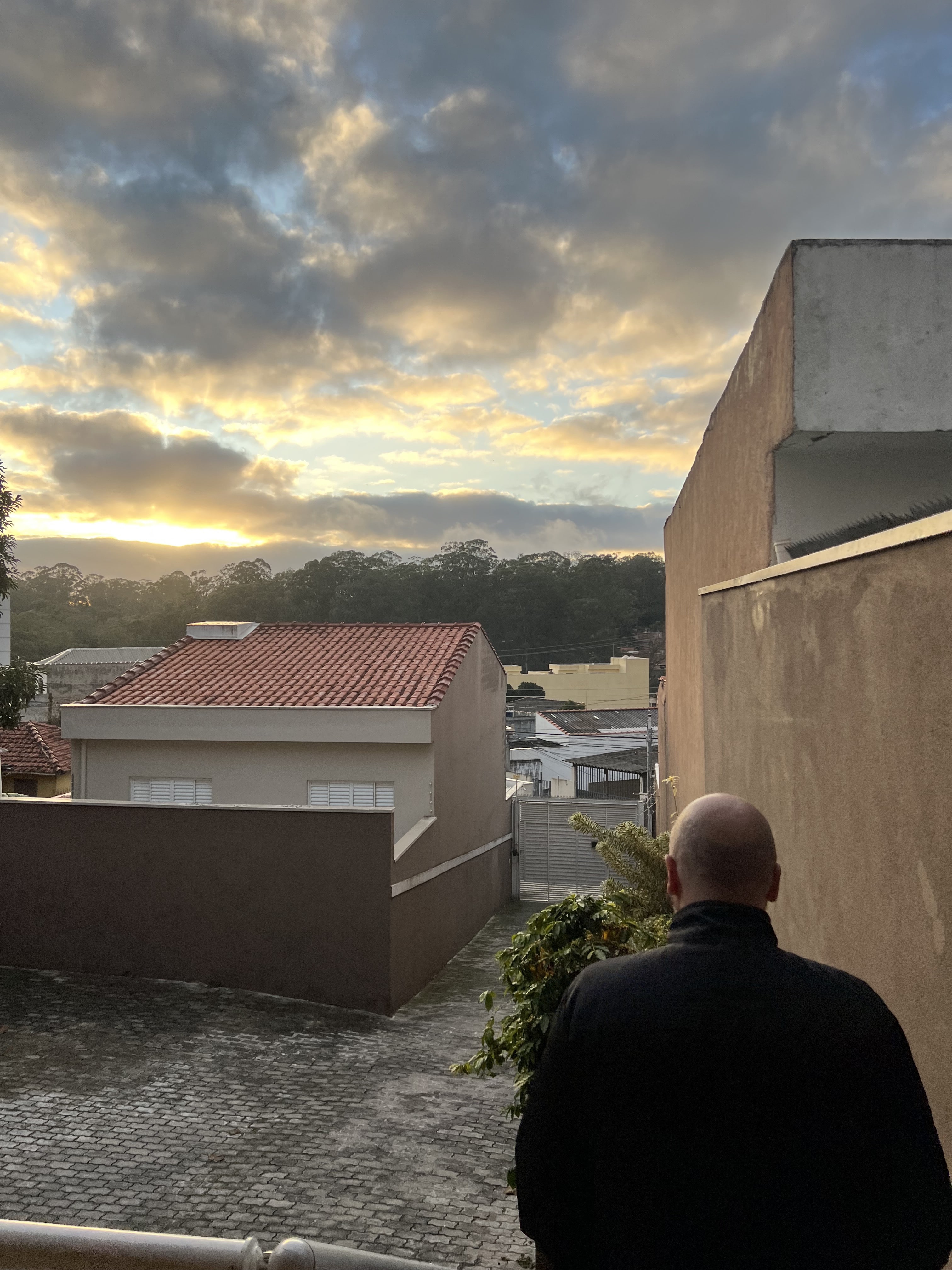 My roommate, Morgan Sproull, and I wake up early each morning and enjoy breakfast with our family, which is honestly more like a feast. They find great joy in introducing us to new Brazilian foods everyday, or as they like to say each time, "Let's try a new experience!" Some new foods for breakfast often include various native fruits. After breakfast, our host dad drive our host sister, Morgan, and me to school. The image to the left is our view from our home when we leave for the college campus.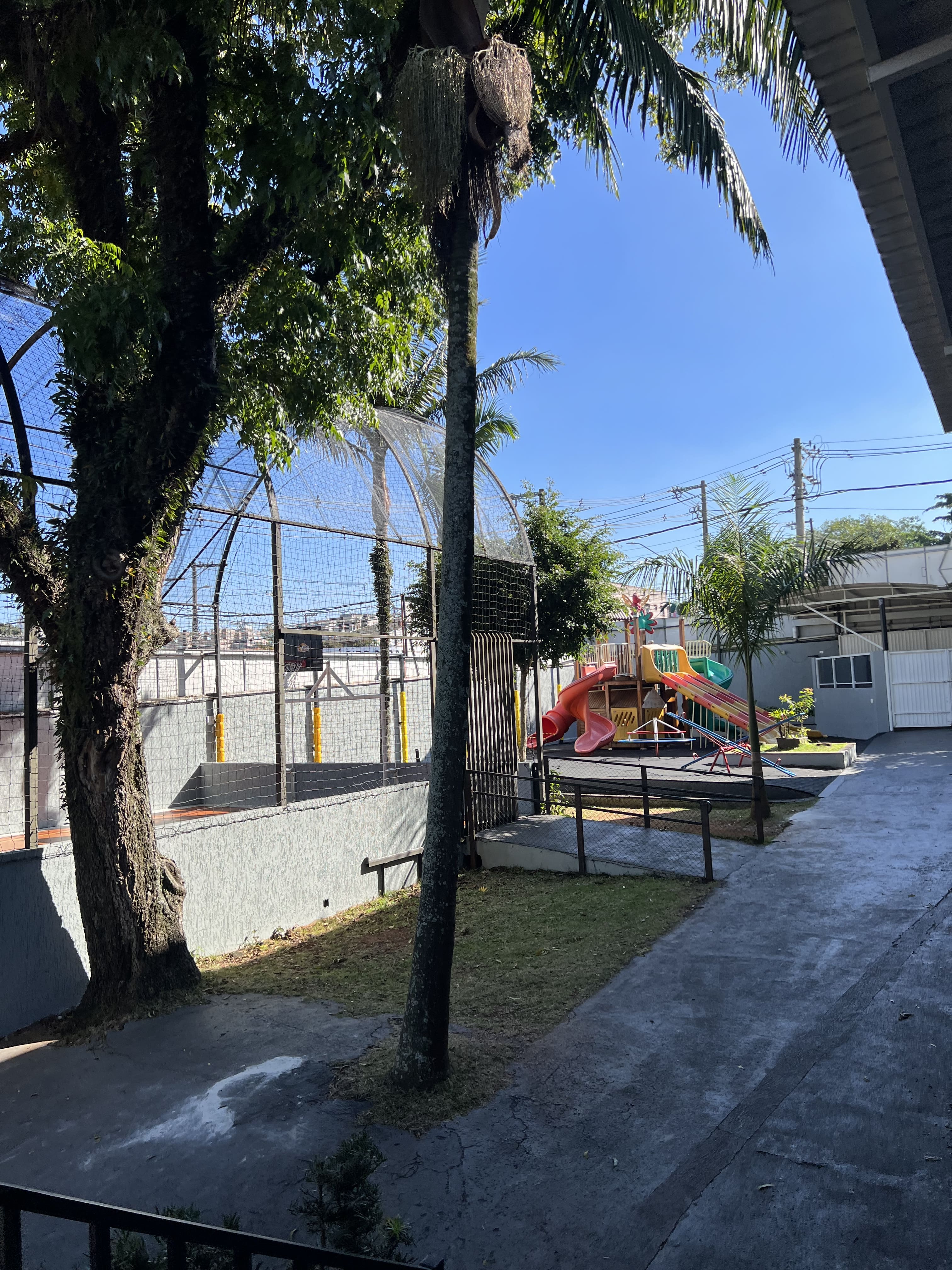 After arriving to the college, we traveled to Colégio El Shaday, which is a Christian school that includes elementary, middle, and high school. We were warmly greeted with endless hors d'oeuvres and hugs. We visited various classrooms within the school and introduced ourselves. Each student viewed us as celebrities and some even asked for our signatures. They were in awe that we traveled all the way from America to see them. The image to the right is one of the outdoor playgrounds/basketball courts.
After our visit to the school, we traveled back to campus and walked to lunch. Today was Sydney Elmore's birthday, so we went to a restaurant to celebrate with her. It is always exciting to try and order food as we are still learning the native language, Portuguese. Below is an image of our meal today, which is a classic Brazilian meal (rice, beans, meat, and more).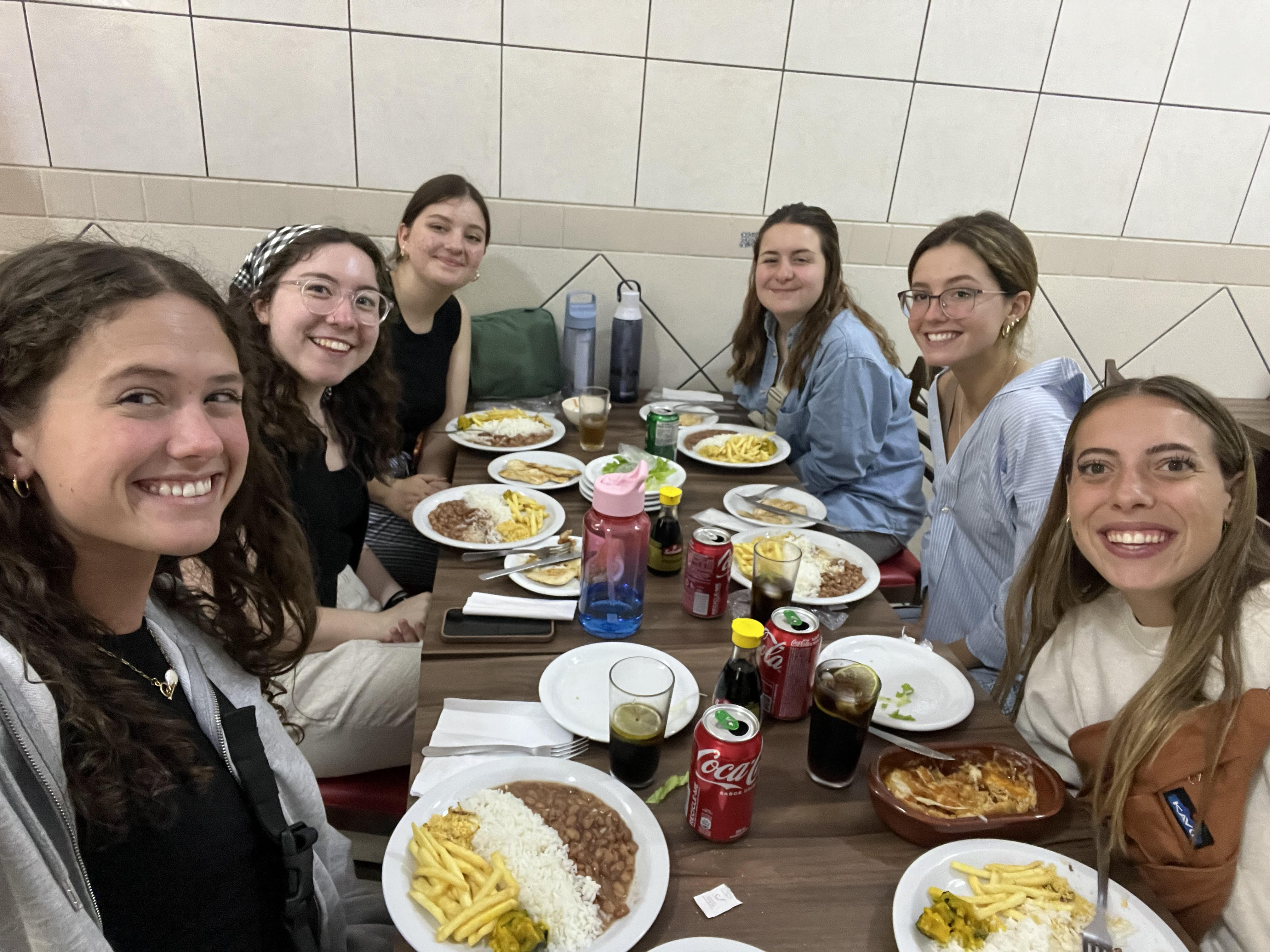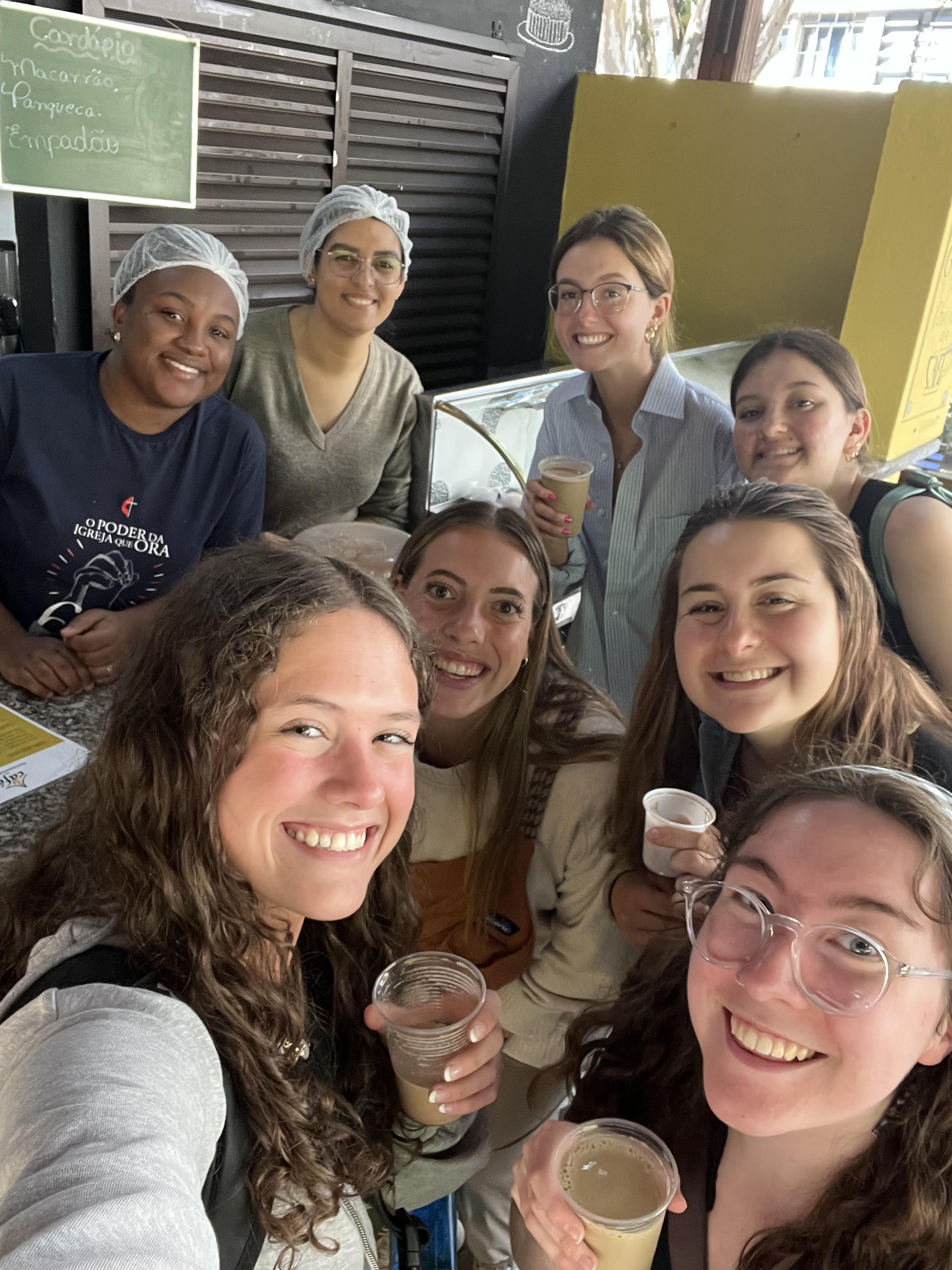 After lunch, we always grab coffee at our favorite cafe on campus in which many of us indulge in their delicious cappuccinos. Today, Morgan, Karly Tausch, and I introduced our friends to our special spot on campus. We took a selfie of us with our favorite cafe workers. (In Brazil, they say, "Sheeees," similar to how we say, "Cheeeeese!")
We then had a surprise celebration for Sydney for her birthday and then Portuguese lessons. Around 6 pm we were picked up by our host families and traveled home for dinner and family time. Every night a huge Brazilian meal is prepared for us, and our entire host family enjoys dinner together and converses. Dinnertime never fails to make my day and bring happiness as we talk in both Portuguese and English to share stories. Below is an image of our meal tonight. Our family shared with us the typical Brazilian pizza, which blows American pizza out of the water. We also tried chocolate pizza, as shown on the bottom right, which is one of their favorites!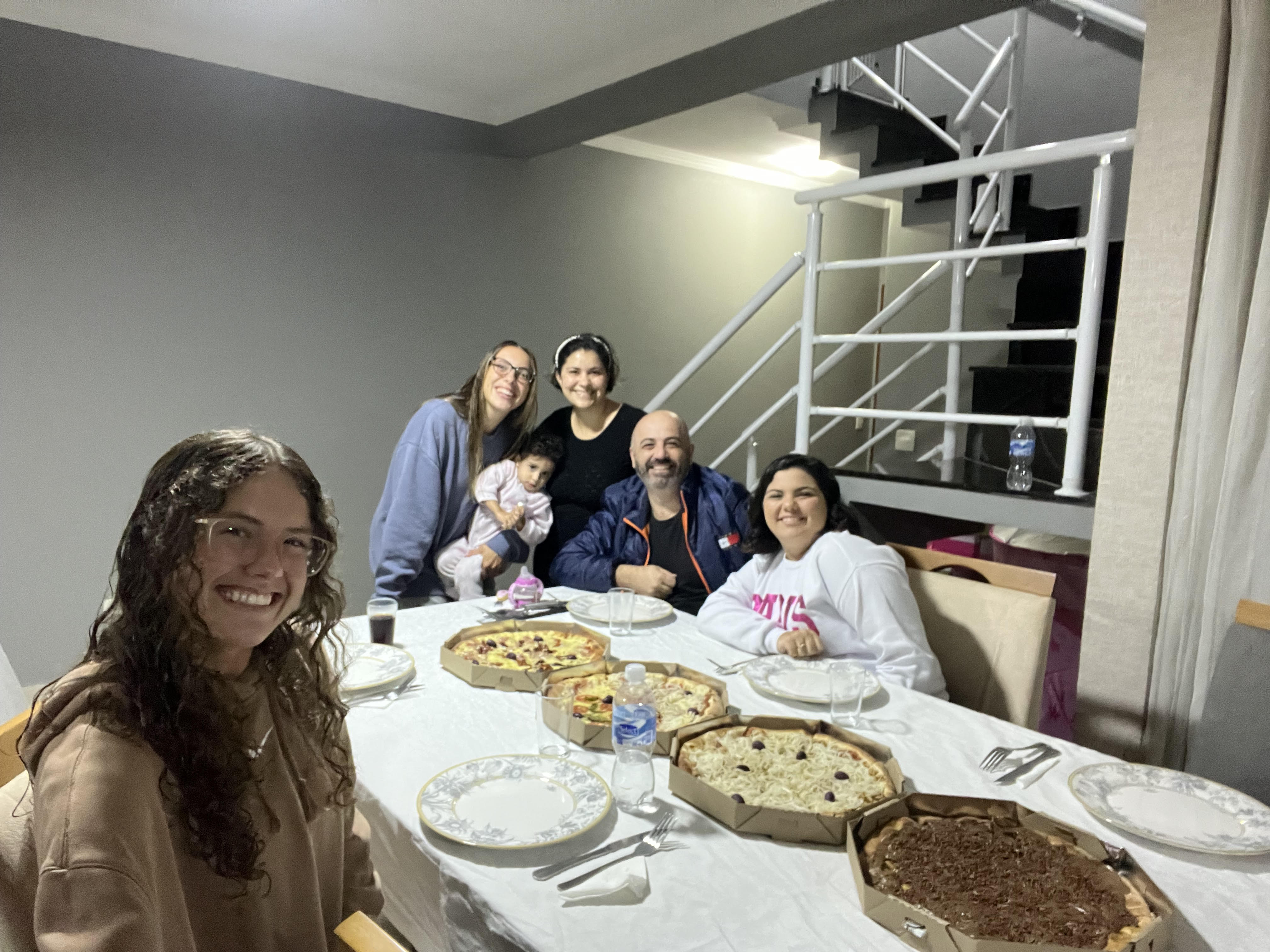 Most importantly, at dinner, our host parents remind my roommate, Morgan, and me that we are more than just their friends or students and that we are now their family, which means the world to us. I am incredibly thankful to have such a welcoming family like the Rodrigues. No matter what happens, they will forever be our family and "uma casa longe de casa," a home away from home.