I have always loved the phrase 'family is more than blood' as family can be much more than those who are directly related to you. I call my close friends sisters and brothers and see them that way too. Over the last two weeks, I have expanded my family and I couldn't be happier. The Perina family has welcomed me into their home with open arms, and they will always have a place in my heart. Andrea, my host mom; Edson, my host dad, Grandma; Helena, my host sister; Amanda, my other host sister I got to see for a weekend; Cookie, our wonderful singing dog; and Loro, the talking parrot.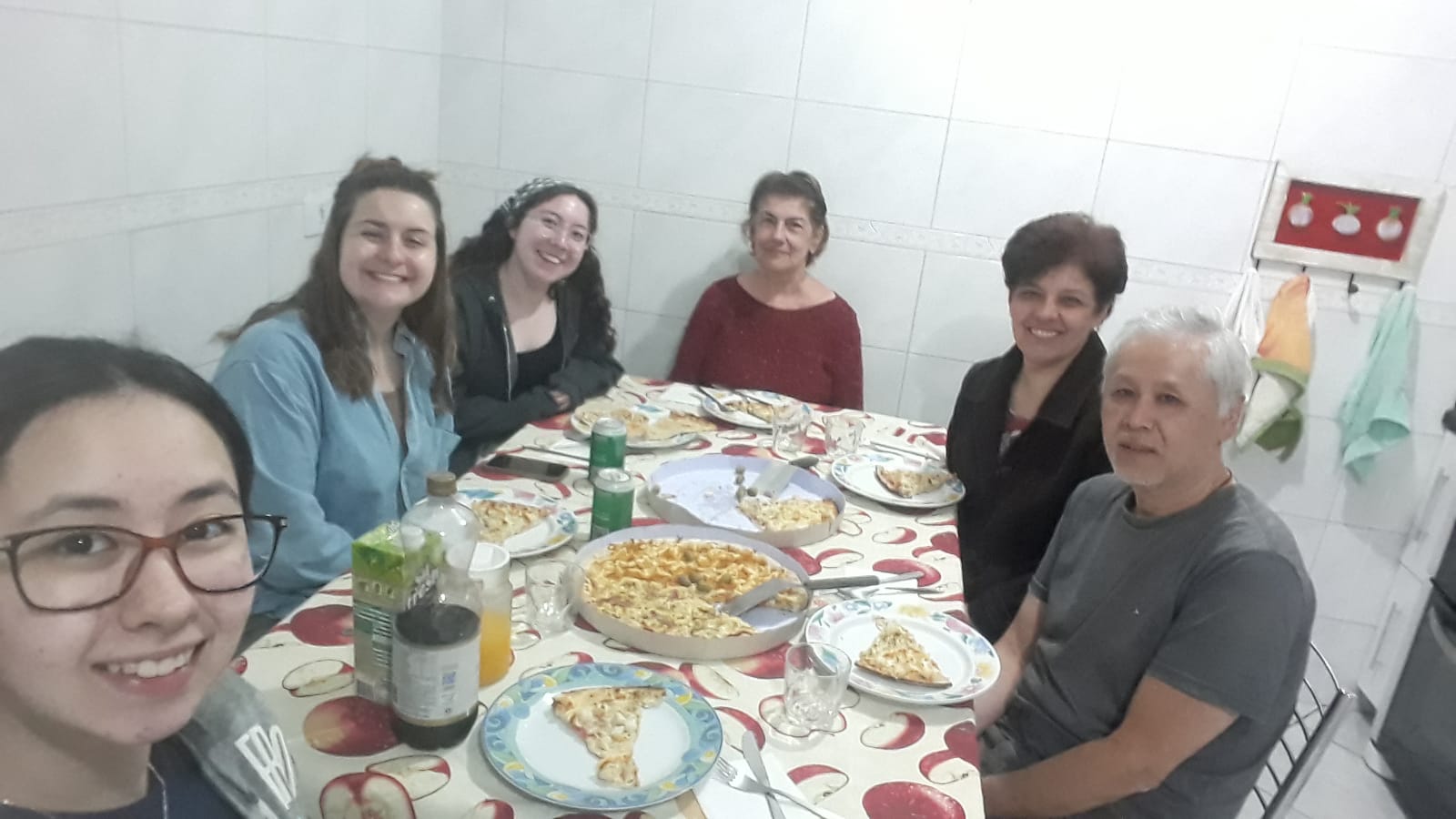 All of the family together (including Mikalya and myself) for my birthday dinner
Nothing could have prepared me for the love that I felt from this family. As soon as we had arrived after our long flight, Grandma made us soup that we could have which set the tone for the rest of the time together. Throughout the week the ice was broken through conversations and laughter. By the time my birthday rolled around the first Friday we were here, I felt at home. I was greeted with a song and big hugs before school, and treated to cake, brigadiero, and late night talks. It didn't feel like I had just met them only a few days prior, but felt like I had always been part of their family. My 20th birthday is one that I'll never forget for many reasons, but mainly because of my host family's love.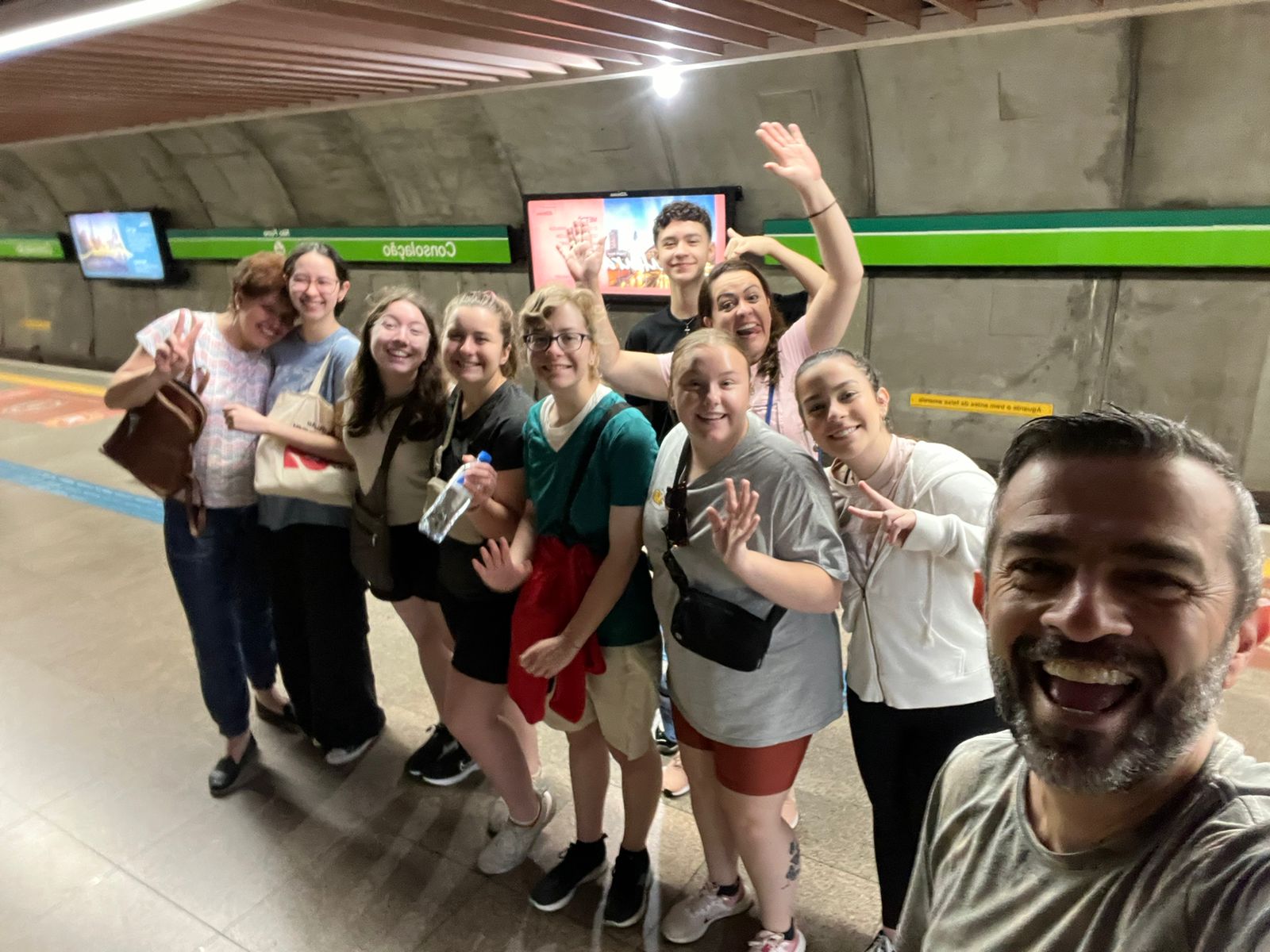 The two neighboring families ready to take on Paulista Avenue!
What's been great about this whole experience too is all of the time that I have gotten to spend with the Gomes family as well. Reinaldo, Alessandra, Andressa, and Vinniex are hosting Kennedy and Abby. Our families live right next door to each other and go on adventures together whenever we have the chance. We were all picked up by Reinaldo on the first day, and his joy for life was infectious. Ever since then his smile, laugh, jokes, and amazing dance moves have made ever moment even better. Getting to know the rest of the family as we walked through the market or down Paulista Avenue has been a true blessing as well. As a large group I have been blessed to get to know my fellow Roberts students more, getting to call them all close friends moving forward. The memories we have created and get to share as a group will stay with us forever.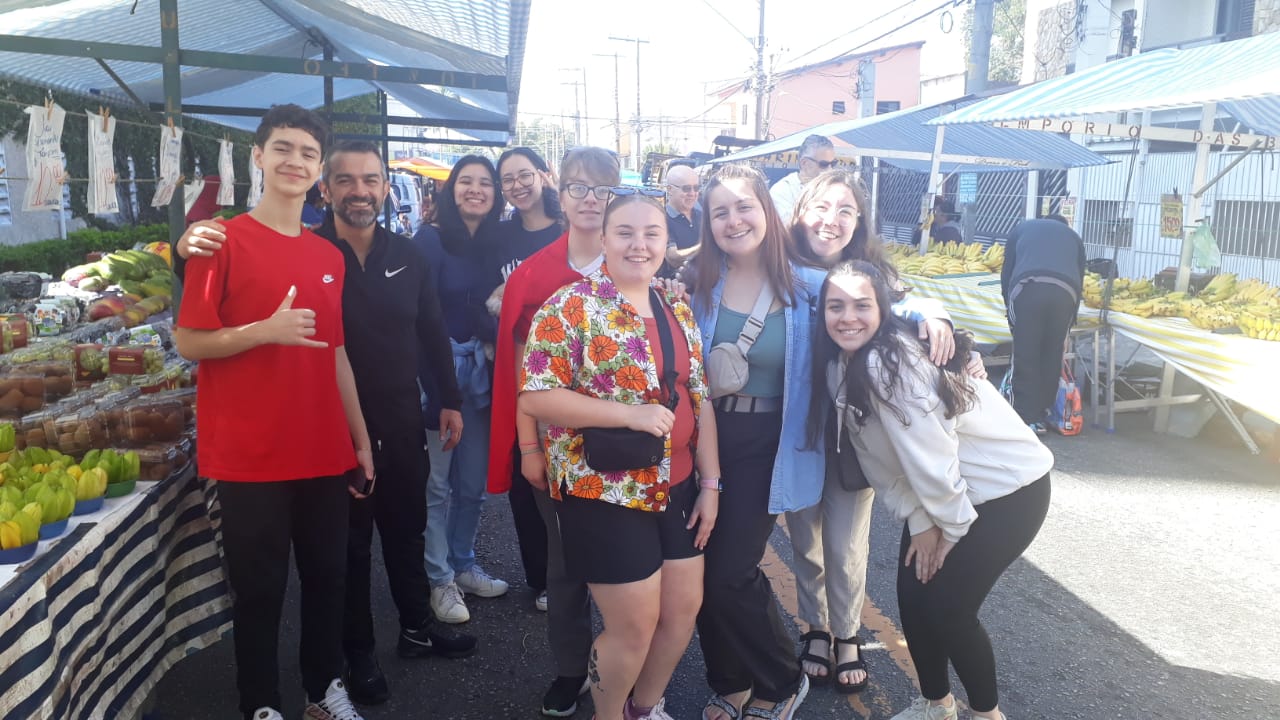 The families at a local street market
Little did I know that I would be tearing up at the thought of leaving my host family in a few days. This place has felt like home because of these wonderful people. Each person has been essential to my Brazil trip with shaping me into the person who is writing this blog. Their love, generosity, patience, joy, and laughter has turned my Brazil trip into something more than just three weeks. They will always be by family, even if we are thousands of miles apart. I believe that God brings people into your life for specific reasons, and for me that's seen with the Perina and Gomes families. Muito obrigada por tudo. Com todo o meu amor e até a próxima. – Sydney 🙂