Like most people, I love to eat. I love to try new dishes, revisit old favorites, and if you ask my sisters, essentially eat whatever is put in front of me. I have always thought the reason I love food so much is because of the taste. While it is true that taste is a significant reason why food is so enjoyable, I have never truly understood what makes eating so special until I came to Brazil.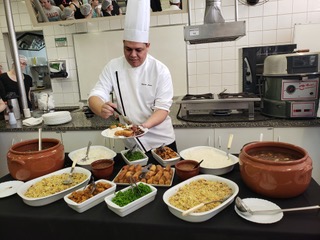 Over these past few weeks, I have tried almost everything under the sun. If I had to coin one phrase my host mom says consistently, it would be "you have to try [fill in the blank]." I have had so many different Brazilian dishes and treats, all the way from Feijoada to Brigadeiros. Additionally, I had the opportunity to enjoy a feast of delicious Brazilian classics with my peers at the cooking class we took on Thursday. Although the master chefs made 95% of the meal, we were included in the process by helping prep and cook the collard greens side dish!
After we all had the chance to practice rolling and cutting the greens, sautéing them in a pan with olive oil, and seasoning them with a bit of salt and garlic, we had the opportunity to dig in. Though the meal we ate was extremely delicious, I found the most valuable part of this experience was the sense of community I felt with my peers.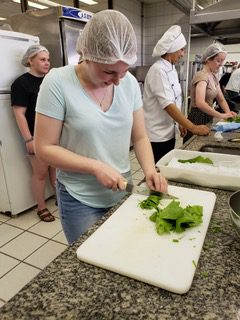 I knew from the beginning that my cooking skills were nowhere near the level of the chefs teaching us. I also knew that this class was not about being the best. What I was not aware of, however, was the social component that encompassed so much of this activity. Through our teamwork and cooperation, it quickly became apparent that the real value in this activity was the sense of bonding we all experienced. Whether it be cheering classmates on when it was their turn to participate, or laughing with each other about our terrible techniques, this experience showed me the value that is found in the unpredictable nature of relationships.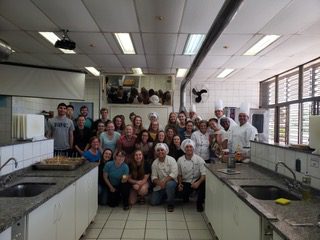 In addition to learning a lot about typical Brazilian food from around the country, I also learned that community can be built with anyone in any situation. I walked into this class thinking I was going to learn about food, and I left with a unique bonding experience with my friends. The team dynamic of this experience allowed me to see the value of community in an unexpected way. It has taught me to embrace all social experiences, since relationships can be formed, built, and even strengthened in almost every situation imaginable, including a Brazilian cooking class!